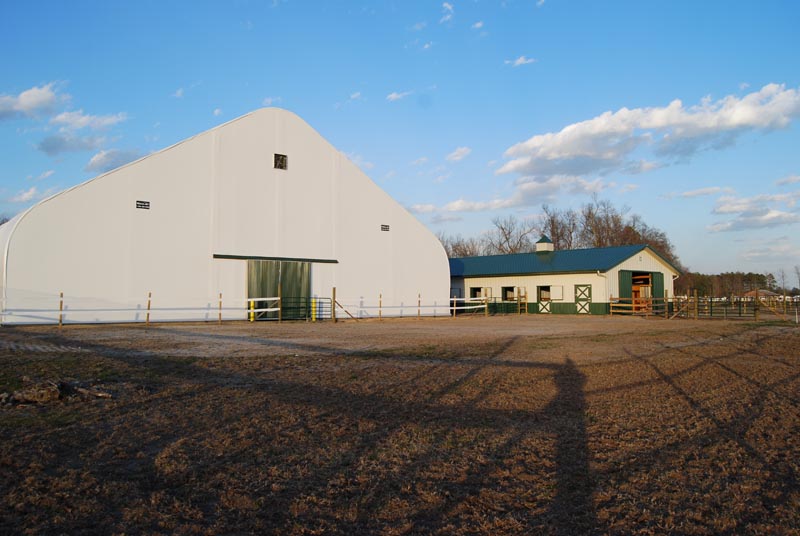 Our Boarding Philosophy
At Deep Creek Stables we believe that fresh air and mother nature are the best gifts we can give our equine loved ones and for this reason, we employ a mixed boarding philosophy. Our horses stay out to pasture all day except for twice daily feedings in stall. The other 23 hours of the day are spent roaming and playing in the beautiful countryside and fresh air.
We have an open door philosophy for all riders. You are welcome to visit your horse and ride any time on the trails and farm roads around the property. We do ask riders not to ride in the pasture or through the nearby campsites. One or two of our three riding rings may not be available at times due to lessons or rentals however at least one ring is always available for boarders to ride in.
Stalls and Facility
All stalls are 12' x 12' and matted with bedding on top. A corner feeder is available in every stall. Our stables have tack lockers available for each rider and you are able to store all tack equipment for your horse on an ongoing basis. There is an indoor and 2 outdoor riding rings available for practice and riding pleasure. Two of these rings have lights for nighttime riding. These rings are also available to rent for special events, training and shows. Call to inquire about rates and availability.
Rates and Payment
Our basic boarding rate of $460 per month includes feed, hay, bi-monthly worming and holding for farrier and veterinarian if appointments are arranged by the stable. Riders are responsible for all additional costs associated with farrier and veterinary visits.
We will feed any supplements that are provided to us. Additional fees for feed supplements may apply. Please inquire with Lee Markley, stable owner, regarding feed supplement costs.
Boarding payments are due by the 5th of each month. Late fees will be accrued for each day a payment is missed past the 5th of the month.